Q&A - How purchasing will work
How much does it cost?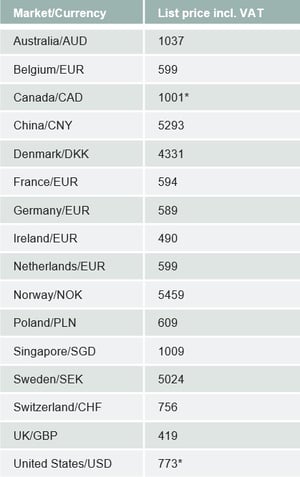 *
Tax (US) and GST (Canada) will
be
added
by the retailer who takes
care of
your
reservation.
Limited Edition HÅG Capisco Puls is only available in territories where Flokk has an office.
What happens after I make my reservation
Once you complete the form above, selected retailer will then contact you to arrange payment (either online or over the phone, your choice), to discuss delivery dates and answer any other questions you may have relating to your purchase.
Once you have made an agreement with the retailer, we will make your chair!
All Flokk chairs are made to order. This means that we only make the exact amount of chairs that are needed, and we have no products sitting in our warehouses gathering dust. With a finite amount of material available for this limited run, it also means that the customer can always choose which fabric and metal combination they want to go for!
Once your chair has been produced, your retailer will then notify you that it is ready for shipping, and provide you with the exact date it is due to arrive and provide you with a tracking number.
How long will it take to get delivered?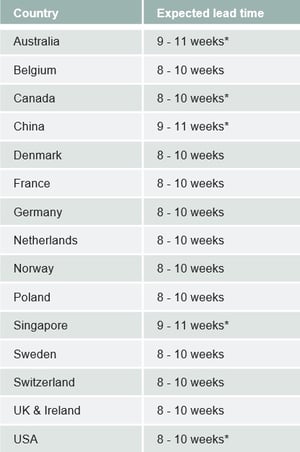 Once you have an agreement with the retailer, it will take approximately eight weeks to be ready to ship. As we said earlier, all of our chairs are made to order, so your chair won't be sitting in a local warehouse awaiting for order, it will be raw components in our factory in Roros when you place your order!
Delivery will be handled by your local Flokk retailer, and they will provide you with all the shipping details you need, including a tracking number and confirmation of when your order has been made and is ready for shipping.
Delivery times from our factory in Norway will be different depending on where we are shipping to. For more information, you can speak to the Flokk retailer when they contact you to discuss your reservation. Alternatively, you can contact us here.
Returns
Any returns must be returned to your retailer in their original condition and in the original package, accompanied by an email order confirmation or online dispatch note.
Additional retailer return conditions may apply. Check with retailer ahead of payment if necessary.
General Terms & Conditions
General terms & conditions of purchase will vary dependant on the applicable country and retailer that is located near to you. These can be obtained from your retailer ahead of committing to purchase and will be valid once payment has been received.
Please Note: By completing the form above you are signalling an intent to purchase, and your request will be treated as such. However, it is not a legally binding contract, and if you do so wish to withdraw your request before we process your payment, you are at liberty to do so.